Sewer Repair Houston Serving All Your Plumbing Needs!
In this modern word no kitchen is up to snuff without at least one garbage disposal system in the home or office or vacation property. If you have any experience with these devices, you know they get clogged from time to time. The secret to keeping it working well is knowing what not to put in it in the first place. But few people concern themselves with this detail. That is until they have a drainage problem.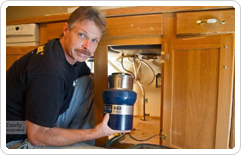 Is your Garbage Disposal Clogged? Plumbing in Houston can come and save the day. We know how to fix even the most firm and fit industrial equipment. We can do repairs, replacement and cleaning. Don't let your cooking become a hardship by not getting this vital part of your home draining system fixed right. You can reach us at any time since we are a convenient and easily accessible service. We work after hours as well as weekends and holidays.

Do you want to know how to install garbage disposal? Installation can be quite challenging for an inexperienced person. But Plumbing in Houston can do it fast and save you a lot of time and aggravation. Our prices are very competitive. Let us come into your home, business, commercial or vacation property and install it for you. This is a simple process and the materials and labor are negotiable. Our staff are certified and bonded for your peace of mind.